(CNN) — Most hotel guests who are displeased with their hotel experience might complain to the manager or tweet out a complaint.
One guest preferred to drive his truck through the lobby of an Alva, Oklahoma, hotel last week, authorities say, narrowly missing two employees at the front desk.
CNN has obtained surveillance video of a truck plowing through the lobby of a Comfort Inn & Suites on December 10.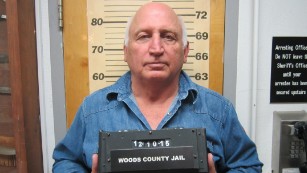 John Edward Parsley, 62, was angry over a billing dispute when he drove his truck through the hotel lobby, according to an Alva Police Department incident report. He was arrested and charged with assault and malicious injury to property, and he remains in jail.
"The guest had tried to pay with a debit card the first night he checked in, and it was declined," hotel co-owner Rupal Kingson Christian said. She owns the hotel with her husband, and she was one of the people behind the front desk when the truck came crashing through.